---
Every handmade gift requires a lot of time, commitment and heart. Carefully selected yarn, in best quality, so that the gift will serve for years. And now the time has come for the magic of the tag. Thanks to which Your handmade gifts will gain a bit of a professional touch in style like from the designer showroom.
---
Every handmade gift requires a unique setting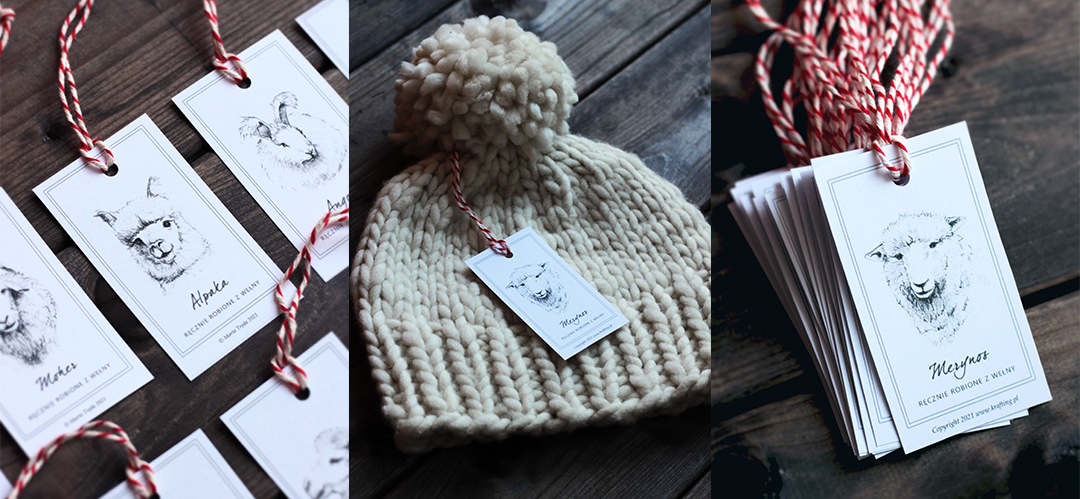 Pencil drawings of merino sheep, alpaca, angora, cotton ... that is all possible natural fibers, which are the composition of the yarn or fleece in gift projects. These little drawings are great for handicrafts made of yarns. It was a long time since I drew and I forgot how wonderfully relaxing it is. For next year I am planning an edition with specific breeds of sheep. An alpaca sweater, a merino cowl, a cashmere hat, Shetland wool gloves or a T-shirt Yarn cotton bag. It is worth showing the recipients what the handicraft gift is really made of. It is worth noting that it is a natural fiber and to whom we owe it. The tag is the icing on the cake of our creation and gives it an effect like from a boutique of the best designer. All you need is a printer, black ink and an A4 sheet of paper from the technical block. Then you just need to cut it out, make a hole with a punch, thread the string and attach it to the gift. My favorite for years has been a red and white sausage string or a hemp or sisal string. It is worth attaching yarn band to the tag from which you made the gift with information on how to wash this gift. Remember to add your logo or signature on the tag. Certainly, a handicraft gift prepared in this way will gain a professional look.


---
Gift Tags are only for non-commercial or private use. All rights on the projects to be linked are protected by the rights of the creators. (Copyright 2021 Marta Tręda)
---
Handicraft branding under the Christmas tree!
ALPACA GIFT TAG
ANGORA GIFT TAG
CAMEL GIFT TAG
CASHMERE GIFT TAG
COTTON GIFT TAG
DOG HAIR GIFT TAG
HEMP GIFT TAG
JUTE GIFT TAG
LINEN GIFT TAG
MERINO GIFT TAG
MOHAIR GIFT TAG
QIVIUT GIFT TAG
RAFFIA GIFT TAG
SHEEP GIFT TAG
SILK GIFT TAG
SISAL GIFT TAG
VICUNA GIFT TAG
YAK GIFT TAG
---
If you would like to show your gifts with tags, make sure you mark them on Instagram #kraftingstories
---
Books for knitters and yarn lovers!
---